Oakland Public School
There are over 1.2 billion people in India. It will soon be the most populous country on earth by 2025
The overall literacy rate is 75 percent after 70 years of independence from British rule
It is still lag behind the world average literacy rate of 84%. Compared with other nations, Republic of India has the largest illiterate population.
India is home of largest population of illiterate adults in world – 287 million, amounting to 37% of the global total
The nation also suffers from a wide gender disparity in literacy rate with a literacy rate of 82.14% for men and 65.46% for women.
600.6 million children in India are still out-of-school
47.78 % out of school children are girls. In the next census they will be calculated as illiterate women, which would then have a ripple effect on the education of their children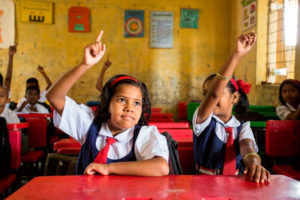 In Andhra Pradesh, there are many who are unable to read or write. Indeed, illiteracy rates are amongst the highest in India. Many children, often due to poverty, do not attend school. Without an education, they have little hope of a future.
Oakland English Medium School was established to provide quality education in a Christian environment. All the children in Bethany Home attend the school with the remainder coming from surrounding 30 villages. The majority of children pay very modest fees which pay for the salaries of the teachers. However, those unable to pay receive free education, uniform and transport. Without Oakland School, many of these children would miss out on an education for their life and their future transformation
You can support a child's schooling with $30 a month ($1 per day) / $300/1 year