October 2020 Update
Greetings friends, supporters and prayer partners
I am excited to share the good news of Gods great work in the midst of troublesome times. It was so evident that Jesus Christ is the same yesterday and today and forever and we are all privileged to have Him as our Lord and Savior.
I am writing this news letter with full of joy in my heart  and gratitude  towards all of you  for supporting us to help the people during these troublesome times.  Thanking you all for becoming the partners in the work of the Gospel through word and deed. I pray that you may  all receive a great reward for your kindness,  as Apostle Paul says in Philippians 4:17. I don't say this because I want a gift from you. Rather, I want you to receive a reward for your kindness. (NLT).
With   the sacrificial gifts and  generous donations  of the friends,  we  could  help 50 families with food supplies and  gave them an  opportunity to taste the goodness of the Lord in the midst of global crisis.
We have reopened our school which was closed almost for 6 months . Initially it was  for  9th and 10th graders   and 120 children were attending the school  everyday  and we are practicing all the  safety precautions and I thanking God for all the children and teachers for being healthy and happy. The news was published in the local news papers to commend our service to the children in this time of crisis.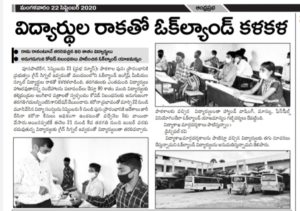 State  government is planning to open the schools for all grades on November 2nd 2020. I request to continue to pray and support  for this ministry of giving  education to the poor and abandoned children to help them to have a good future.   I strongly believe and witnessed that the ministry of giving education to the children  is  the key for the true  transformation which lasts forever   and it  helps the children  to escape from the age old problem of illiteracy  which leads to ignorance and poverty.  The need is so great but our God is great and he is able to provide all the needs as we seek His Glory and prepare people for His people.
Also we have resumed our ministers training classes at our mission base and all the ministers and trainees came in spite  of hindrances due to rains and floods. It was great time of sharing and teaching and encouraging the ministers to live out their mission in the world. https://www.facebook.com/paulsreenivas/posts/10223964619205086
As Apostle Paul  says in 2 Timothy 2:9  " but the word of God is not bound"  by any means of suffering or obstacles. So I resumed my ministry of going to the remote villages on the mountains to reach the people and preaching the good news of Jesus and helping the people to accept Jesus and live for God s kingdom and for eternity . 235  people came to believe Jesus through gospel campaigns  and we distributed bibles to all of them and praying for a great revival soon in India with the proclamation of true word of God.https://www.facebook.com/paulsreenivas/posts/10223985294081945
I am grateful to God for one of our minister along with his team crossed the dangerous river  flood to reach the people to help as well as to preach the gospel. https://www.facebook.com/1285737368/videos/10224012314277433/
I am also  thanking Go International for giving me an opportunity to share with  the international partners around the world on how to make disciples in the context of pre dominant Hindu religious persecution. Go International has been a great blessing to people of India by helping to buy the food and distribute to the poor and needy.
We are hoping and anticipating  for a great month of Gods faithfulness ahead and we would appreciate your prayers and kind consideration in  supporting financially  to help  the people of India. Here is the link to donate: https://bethanymissionsociety.org/give/